Honorata Skarbek
Background information

Birth name

Honorata Skarbek

Also known as

Honey
Honka
Born

Zgorzelec, Poland
December 23, 1992
Genres
Pop

Occupation(s)

Singer-songwriter, fashion blogger
Instruments
Vocals, piano

Years active

2009–present
Labels
Magic Records
Website
honorata-skarbek.com
Honorata Skarbek (born 23rd December 1992), previously known as Honey, is a Polish singer-songwriter and fashion blogger. Her first album, Honey, was released on 28th March 2011, and has been followed by two more albums to date.
2011: Debut album
Edit
Honorata's self-titled debut album, Honey, was released on 28th March 2011 and was certified gold in Poland with over 15,000 sales. The album was promoted with the three singles "No One", "Runaway" and "Sabotaż". These three singles had radio success, appearing in five different Polish radio charts. Honorata also toured Poland to promote the album on the so-called Sabotage Tour.
She became the face of the MOODO fashion brand, creating a collection of t-shirts with her name with the brand in 2012. She won the Internet users' award at the TOPtrendy 2011 festival in Sopot, as well as the 2011 VIVA Comet award for Debut of the Year.
2013-15: Million and PuzzleEdit
In 2013 Skarbek was nominated for the Nickelodeon Kids' Choice Award 2013, and was also a support act during the first Justin Bieber concert in Poland, which took place on 25th March 2013 at the Atlas Arena in Łódź.
Her second album, Million, was released on April 16th 2013, along with the promotional singles "Lalalove" and "Nie powiem jak" along with English-language equivalents "Don't Love Me" and "Aeroplane". This album was also certified gold and charted at 39th in the Polish charts as well as promoted with the My Name is Million Tour. "Nie powiem jak" reached the top of the Polish airplay charts, making it the singer's most successful single to date.
Honorata's third studio album, titled Puzzle was released on July 31st 2015 with most of the songs on the album being in Polish. The album charted at 28th and was supported with the Puzzle Tour, although no promotional single from the album charted separately.
2017-18: The Origin Song Contest
Edit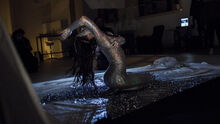 In October 2017, Honorata returned to music with the release of the song "Na koniec świata" (At the end of the world). On 30th December 2017, this song won Piosenka dla Niemiec, the Polish national final for the fourth edition of The Origin Song Contest, representing the country at the contest in Cologne, Germany.
Personal life
Edit
Aged 14, Honorata was diagnosed with chronic myeloid leukemia, but after taking medicines she was no longer in need of an organ transplant and returned to normal life. In a 2014 statement, she said the illness had not progressed for eight years.

Poland
in The Origin Song Contest
(Note: Entries scored out are when Poland did not compete since their debut)